Jul - 02
2022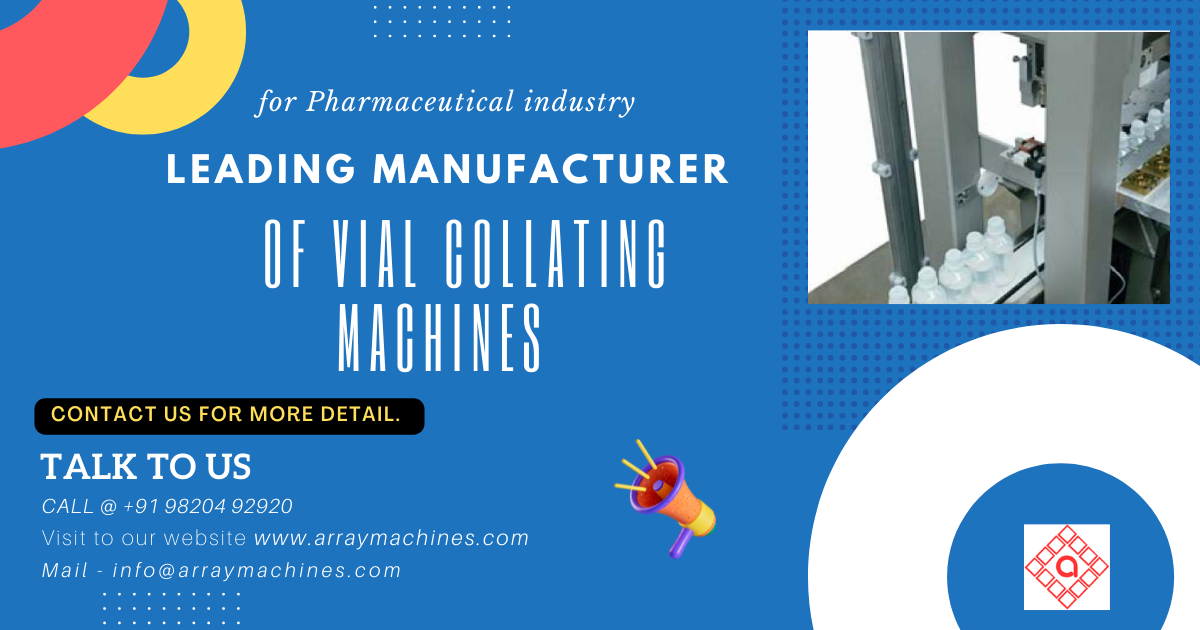 The Best Vial Collating Machine Manufacturer in Mumbai
As one of the leading manufacturers of vial collating machines in Mumbai, Arraymachines has been around for more than 35 years. They offer a range of machines to suit the needs of their clients. A vial collating machine is a type of packaging machinery used in the pharmaceutical industry.
Vial collating machine manufacturing is a process that has been in existence for more than a century. It is the process of assembling and packaging vials, ampoules, and other pharmaceutical containers. The entire operation is carried out by machines that are specially designed to perform this task.
The machine used in this process is very different from one another depending on the type of container that needs to be assembled or packaged.
Vial collating machines features
The central screw is used for dispensing and collecting vials of differing sizes. These screws can be set to dispense the same or different sizes of vials. A rotary cutter cuts a circle into the bottom of each sample, which allows for easy extraction from a larger vial without the need for a needle and syringe.There is a difference in speed depending on the number of products to be inserted.
In fact, Arraymachine specializes in creating machines such as the BCM – 30, 60, and 120 (Bottle collating machines).CCM – 30, 60, 120 (Carton collating machine)
This product requires 230 volts, 1 Ph. power, and a 50 Hz electrical connection.
There is a minimum outer carton size of 100 x 100 x 150mm and a maximum outer carton size of 400 x 400 x 300mm.
Arraymachine, the leading pharmaceutical manufacturer in Mumbai, offers fully automatic and semi-automatic vial collation machines, PLC and microprocessor-based controls.
Overall size 1500 x 1500 x 1250 mm height. And weight approximately 250 kgs. ~ 800 kgs.
A vacuum capacity of 10 LPM is available. It is made out of M.S. / S.S. 304
Vial collating machine's advantages
Vial collating machines offer many advantages over manual vial collation methods. Vial collating machines are used for the purpose of organizing and storing samples in a laboratory. They can be used for a variety of purposes, for example,
It is used to place vials into trays or cartons in a predetermined order.
To organize and store samples in a laboratory.
To store blood and other bodily fluids.
The advantages of using a vial collating machine include increased accuracy, efficiency, and productivity.
In addition, vial collating machines can be customized to suit your specific needs.
In today's competitive market, the Mumbai base manufacturing company Arraymachines can supply the best vial collating machines all over Maharashtra. The company focuses on providing high-quality, efficient, and cost-effective solutions to its clients. They use the latest technology in their manufacturing process and they are ISO certified.